Ingrained with
Texas character
Hawkins' hand-crafted furniture captures the spirit of Texas. We recover vintage woods - like pecan, longleaf pine, and black walnut - from old farm houses, dance halls, and bowling alleys across Texas. We also use wood from a handful of small, family-owned mills in Texas. Most of this wood - oak, mesquite, pecan, knotty alder, and loblolly pine - is milled from trees that have died due to drought, storms, or the fires in Bastrop County. These old trees are full of character and we are grateful for the opportunity to rescue them from becoming mulch and give them new life by turning them into something beautiful and useful for people's homes.
Picking the
Right Piece of Wood
When Hawkins starts building a dining table, bookcase, or cabinet, he carefully selects the wood he uses for optimal aesthetics and durability. Depending on the item of furniture to be made, he considers the strength and density of the wood, its color and grain pattern, whether or not to use bookmatch pieces, and the desired edge finish - whether a traditional straight edge or waney edge (also called a natural edge or live edge) that follows the line of trunk under the bark. The result is a one of a kind Texas creation - rich, beautiful, and useful - that you'll treasure for a real long time.
Natural and durable
finishing process
Hawkins Furnitures Co. uses a finishing process that enhances the natural color of the wood. After sanding is complete, we apply Danish oil that has a slight amber tint that penetrates into the wood. Then we apply dark walnut Danish oil that changes the color of the wood by around 10%. When the desired color is achieved, we use a water-based polyurethane coating that protects the piece, allowing your furniture to withstand the spills and bumps that accompany a full life.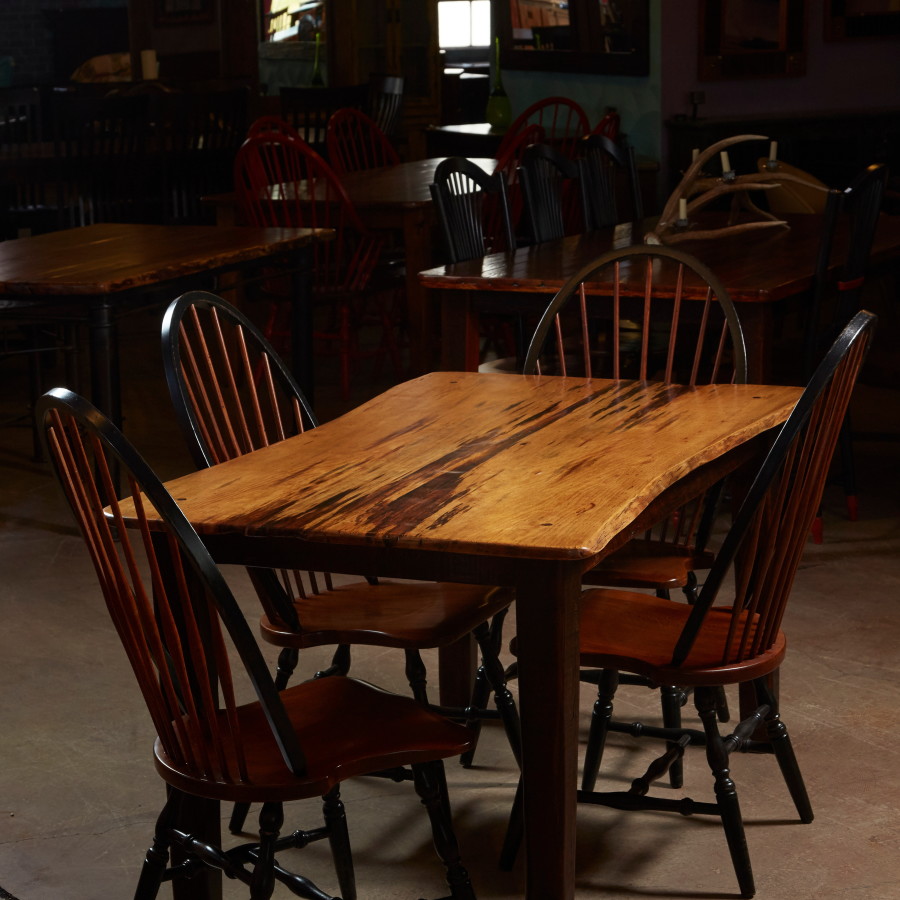 Salvaged from the ashes of
the Lost Pines wildfires
A good deal of the wood we use is purchased from Ray at Texas Kiln Products. Sadly, Ray's sawmill burned during the Bastrop wildfires, but he still has a big barn full of the coolest stuff a wood nerd could dream of. Ray is the only person we know of who has saved Lost Pines loblolly pine trees after the wildfires to turn them into something beautiful. Ray also salvages trees that have succumbed to drought from old ranches and homesteads in the Bastrop area, supplying old growth Pecan, Mesquite, Post Oak and Texas Walnut for our large conference tables and dining tables. He hand-mills the trees on a limited basis and sells to a handful of artisans and furniture makers in Texas. Each table, desk, and mantel made from these trees is a piece of Texas history. The wood recovered from the Lost Pines wildfires, in particular, marks a moment in time - bearing charred marks from the fire that make them, truly, one-of-kind pieces.
Come Visit
1811 Avenue G
Rosenberg TX, 77471
Thursday-Friday 10am-4pm
Saturday 10am-3pm
(281) 341-0479
Custom Orders
Whether you already have the perfect piece of wood to turn into a one of a kind piece of furniture or don't find a piece that meets your specifications already on our showroom floor, we are happy to build a custom piece of furniture that you will fall in love with.
Come by the Shop
We like do business in person, please come by the shop, thanks.